I began my second day in Philadelphia with another walk to take photos. This time I walked north of City Hall along Broad Street to photograph the Pennsylvania Academy of Fine Arts and The Philadelphia Inquirer building. Then I walked west to find the Comcast Center and the Adrienne Theater. I especially wanted to photograph the home of the InterAct Theatre Company because there are no decent photos of its exterior to be found on the Internet. There were actually several establishments that I photographed just because you can't find any photos of the storefronts online. I will replace a few bad photos in my personal guidebook.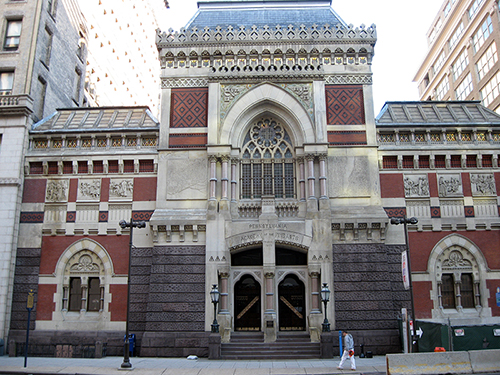 At 8:00 a.m. I made my way to the Reading Terminal Market for breakfast. I ate at the Down Home Diner because the Dutch Eating Place was too crowded. I ordered scrapple with poached eggs, coffee, and toast. Scrapple is Pennsylvania Dutch ethnic food. You can buy it in grocery stores in Pennsylvania. I remember eating it occasionally way back when. It is actually a horrible meat product made out of the internal organs of a pig. I saw a tourist asking the waiter about scrapple and then ordering something else when he heard what it was! The poached eggs looked like whipped cream. I don't know if I've ever had poached eggs before. Scrapple tastes like sausage.
At 10:00 a.m. I went to the corner of Locust Street and South Broad Street to enter the subway entrance in front of Sotto Varalli. I rode the Broad Street subway line to Ellsworth-Federal Station. Although Philadelphia's subway system is not as extensive as New York City's famous MTA, they do have subways. From Broad Street I walked several blocks east to the Italian Market, the working class food market made famous in Rocky movies. Along the way I passed a huge Asian strip mall, Wing Phat Plaza, which showed the presence of another ethnic community, the Vietnamese.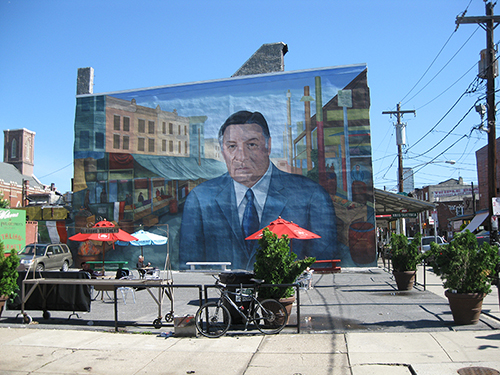 I intended to have lunch at Paesano's which supposedly has great sandwiches but they don't open until 11:00 a.m. and I did not want to wait until they opened. After walking up and down South 9th Street there isn't much to do in the area. I did buy a DVD of American Psycho at a shabby bookstore/video store and a bag of Italian Market Reserve coffee at Anthony's Italian Coffee House. The Italian Market is an interesting place. It looks very grungy in photos online but I did see many funky meat markets and specialty grocery stores. A few stores were selling the kind of junk you would find in a Dollar General store. Anyway, the Italian Market is in the South Philly area and that is a neighborhood that I had never seen before. It has many streets of squalid row houses. I did see the famous Frank Rizzo mural which can even be seen in an episode of "It's Always Sunny In Philadelphia".
I retraced my steps and took the Broad Street Line subway back to City Center. As luck would have it, I emerged at exactly the same subway entrance as I entered on the corner of Locust Street and South Broad Street. After leaving my purchases at the hotel, I went to the Pennsylvania Academy of Fine Arts which has an art museum. There was a huge tour group in front of the museum which made me hesitate to enter. I eventually followed them inside but in the confusion I did not stop at the reception desk since nobody else did. Fortunately the tour group just spent a brief time in the foyer and then left without seeing the artwork. The Pennsylvania Academy of Fine Arts has some amazing artwork, particularly if you like traditional representative art. Unfortunately one of the guards had to admonish me for taking photos, which is not allowed. But I did take some good photos before that happened!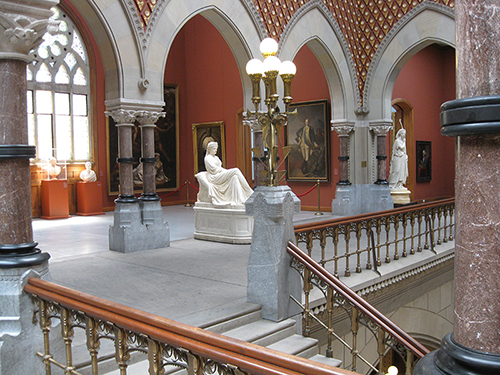 After that I walked all the way to Old City, pausing to photograph many sights along the way. I even photographed the Holiday Inn in the Historic District where I've stayed in the past because I may want to book a room there in the future. I found the Arden Theatre which is where I had a ticket to see a play that night (more on that later). I stopped in at The Book Trader and bought some more guidebooks on London. The Book Trader is a bookstore that I especially wanted to visit because it is featured in the film "The Answer Man" starring Jeff Daniels. That film really shows you what contemporary Philadelphia looks like and manages to capture the essence of its boutique store culture.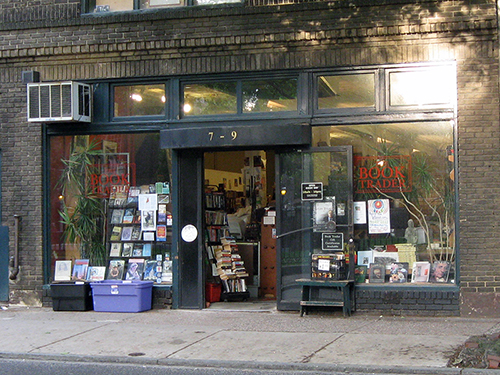 Another important establishment on my short list was National Mechanics, a trendy bar and restaurant. But what interests me is the business above the bar, an e-commerce firm WebLinc. This technology company actually owns the bar which is a peculiar combination of businesses. So this makes the bar a popular meeting place for Philadelphia's technology professionals. If I ever move to Philly and continue my career in IT I would probably need to know where this bar is located. I had lunch at the National Mechanics. I ordered their signature National Burger and a drink.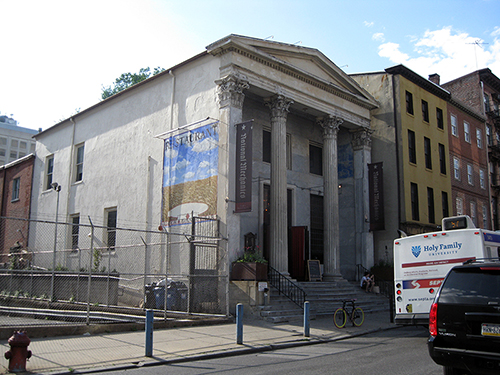 After lunch I wandered around South Street where I went mad taking photos of various establishments. This is Philadelphia's most colorful street and there are many stores and restaurants that interest me. But I particularly sought out Passional Boutique because this fashion store is prominent in Philly's goth scene and there are no decent photos of the storefront online. Since I was fortified by a drink I even braved a visit to the Digital Ferret music store which sells goth and industrial CDs. I've been placing numerous orders on their online store and they have been sending me Dracula's Ball postcards for years. I picked out some German industrial CDs so fast that the sales clerk remarked on my speedy shopping abilities. Other interesting businesses in the area include Brauhaus Schmitz, a German restaurant, and Harry's Occult Shop which has an interesting mural. Eventually I stopped in at Magic Gardens, the famous folk art environment by mosaicist Isaiah Zagar. His mosaics are probably too complex visually to photograph well because they are far more impressive in real life than the muddle you see in photos. I think I returned to my hotel from there because it was not a long walk north to Walnut Street.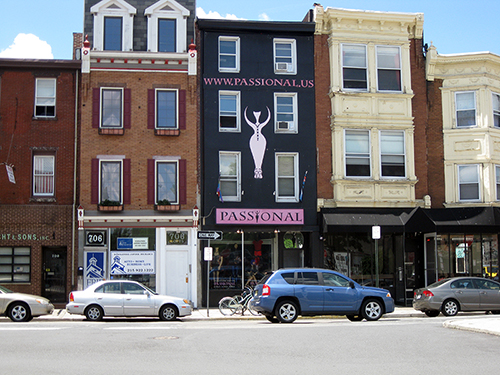 I still had many hours until the play at Arden Theatre Company and I wanted to spend that time close to the Old City area so I walked all the way back there from my hotel. I killed some time at Franklin Court, the museum devoted to Benjamin Franklin. This museum is sort of one of the hidden tourist sights in the city because it is located in a courtyard behind some storefronts. In the courtyard there is a steel framework meant to represent Benjamin Franklin's house which is no longer standing. But there is also an underground museum which you are also likely to miss. I arrived just in time to catch the last showing of their short documentary film on Benjamin Franklin which was a good excuse to rest my feet. Unfortunately the museum soon closed and I had to wonder around Old City and South Street for hours on end trying to find something to do. I even walked to Penn's Landing where I unexpectedly saw a huge cargo ship. This colossal vessel must have stood ten stories above the water line. It was an Eukor cargo ship owned by a  Korean shipping company which was probably delivering cars, according to an Internet search. Unfortunately the Independence Seaport Museum was closed and I was unable to enter the dock area.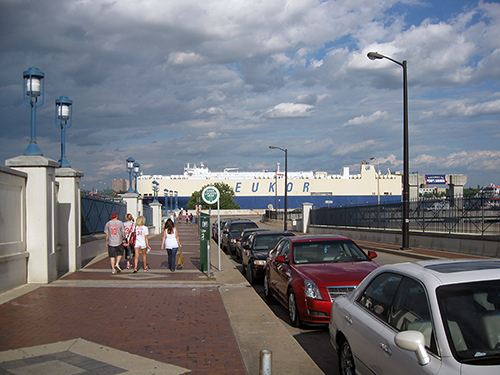 In order to kill more time, I had diner at FARMiCiA, a fancy restaurant in Old City, not far from National Mechanics and the headquarters of City Paper. I had the vegetarian entrée Roasted Eggplant Cannelloni and a drink.
The highlight of my trip was seeing the original play Wanaker's Pursuit by Rogelio Martinez at the Arden Theater. You could not ask for a more prefect play on a trip to explore the city and its culture because this play was extremely Philadelphia centric. I imagine it is a largely fictional account of Nathan Wanamaker's buying trip to Paris where he met Gertrude Stein and Pablo Picasso. John Wanamaker owned a large department store in Center City which is now a Macy's. This department store can be seen in the movie 12 Monkeys and it is mentioned in all the Philadelphia guide books so I was already familiar with the name. Since I've been to Paris and I'm familiar with modern art, I could also appreciate that aspect of the play. In fact, my last extensive trip to Philadelphia took place shortly after I returned from Paris in 2009. Seeing this play was truly a magical ending to my own trip abroad, Philly being like a foreign country to the rest of the state.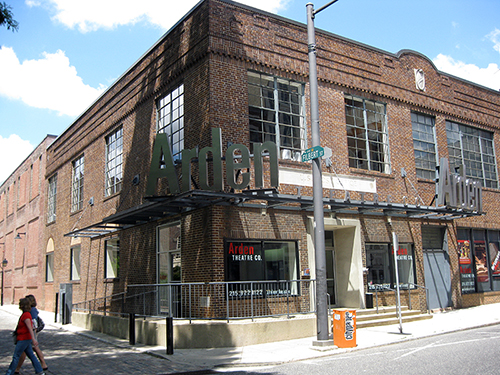 I did intend to stay in city for a few hours after checking out of my hotel but all that walking killed my feet so I could not stand any more of it. I am very pleased with all that I accomplished on this trip. I may have been too much of a tourist, but I did gather a lot of information on the city and visited three neighborhoods that I'd never seen before.